Cave Hill Creek: It's All In The Name
I am often asked about the origins of the name Cave Hill Creek.  It is quite simple really; the creek that flows through our lake is known as the 'Cave Hill Creek'.  The Cave Hill Creek cascades over Raglan Falls and down off the northern slopes of Cave Hill in the surrounding Mount Cole State Forest.  It is also at Raglan Falls, over the small granite cliffs, that visitors to Cave Hill Creek can try abseiling.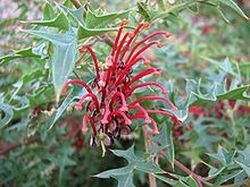 Similar is the logic behind the origins of the name Cave Hill.  That is, the southern slopes of Cave Hill feature a large cavern created when the lower half of a large rock face collapsed leaving a large overhang.  The local Beeripmo balug aborigines refer to the cave as Bukkertillible.  It can be seen clearly to the north when driving along the Western Highway between Beaufort and Buangor.
Cave Hill Creek's logo also finds it origin in the local forest.  It features a flowering Grevillea montis-cole (commonly known as Grevillea Mount Cole or The Glut Grevillea).  The grevillea is endemic to the eastern slopes from the Glut picnic ground  to Cave Hill Creek. It is a small shrub identifiable by its red flower from October to March. Grevillea montis-cole is listed as rare in Victoria