Kids outdoors – A Fish That Didn't Get Away
Kids outdoors – the opportunities to build self esteem, resilience and balanced mental health through nature are endless, and widely recognized.  I recently witnessed a Grade 5 teacher use the outdoors to provide a memorable life experience for an enthusiastic pupil on camp at Cave Hill Creek.
Sam a teacher at an outer suburban primary school is also a keen weekend angler.  Each Monday morning he would regale stories of catching big trevally, tasty snapper or fighting flathead to his students.  The kids would listen intently, dreaming one day of their own big catch.
It was an early camp morning and Sam was up with the sun to try his luck. Sam had already reeled in 5 nice sized brown and rainbow trout, and tales of his catch were spreading wildly amongst the excited kids as they rose from their bunks.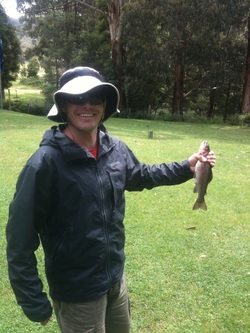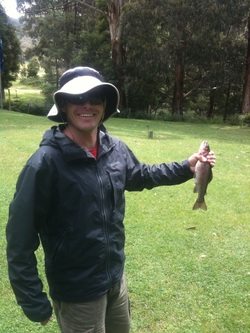 ​It was nearing breakfast and Sam was packing up when he hooked another rainbow trout.  Almost at the same time the bell rang.  Instinctively Sam placed the rod back in its holder and headed to the dining room. On his way in the door he grabbed the attention of James aged 10:
​
"Hey James, I need to supervise breakfast, how about you go down to the lake, reel in my line and pack up my fishing equipment?".
"Yeah sure Sam. No worries". James replied, pleased to have been chosen.
James wandered down to the deck, grabbed the rod and started reeling.  All of a sudden there was a tug on the line, and the rod tip began to bend.  "A fish. I've got a fish" he screamed excitedly, lifting the rod tip and winding as fast as he could, just as Sam had described on many a Monday morning.  The fish jumped from the water with a spectacular splash, flipping about wildly.  James landed the fish on the deck.  Picking up the fish with his rod he turned and ran to the dining room.   Having seen James land the fish his fellow students began cheering. James, bursting with pride raised the fish for all to see.
A silent nod and wink was all that was required between Sam and I – a magic teaching moment.